The Centurion Vision System is the most advanced technology platform for cataract removal with phacoemulsification – a surgical technique that uses ultrasound energy to break up and remove cataracts. Our board-certified cataract surgeon uses the Centurion Vision System for superior outcomes in cataract surgery in Atlanta.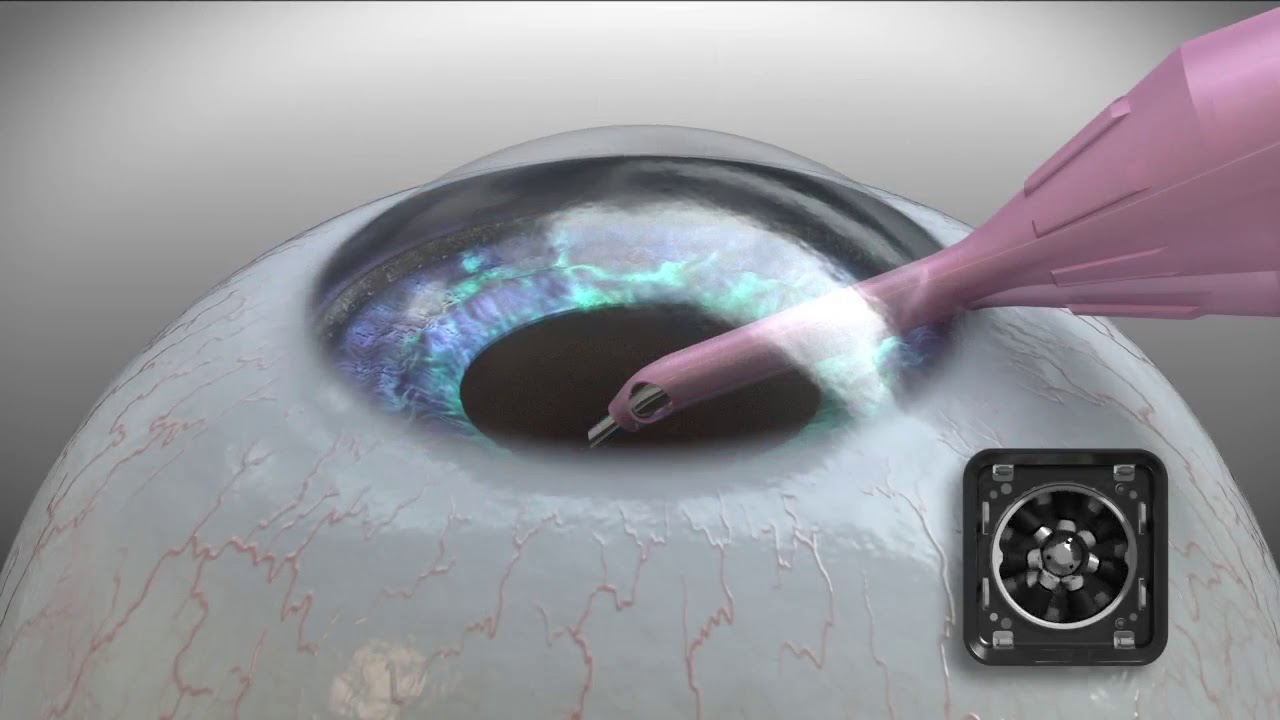 What Is Phacoemulsification?
Phacoemulsification is a safe, painless, cataract removal procedure, performed on an outpatient basis under intravenous sedation with topical anesthesia. It involves two small incisions approximately two millimeters and one millimeter long that are self-sealing and do not require sutures. After the incisions are made, viscous fluid is injected into the eye to cushion the tissue and help the eyeball retain its shape.
An ultrasonic phacoemulsification probe is used to is used to break up the cataract into tiny pieces, which are suctioned out of the eye through a small hole at the tip of the probe. After the cataract is removed, a folded replacement intraocular lens is implanted through an opening in the lens capsule (the natural sac that holds the lens in place).
What Is Different About
the Centurion Vision System?
This system, is specially designed to provide eye surgeons with superior cataract removal capabilities. It is the only intelligent phacoemulsification technology that optimizes every step of cataract removal surgery.
The Centurion Vision System continuously and automatically adapts to changing conditions within the eye during surgery. Throughout the procedure, it provides greater stability of the anterior chamber -- the fluid-filled space between the iris and the innermost surface of the cornea. In addition, it provides Dr. Nemi at Lotus Vision with optimized energy technology and surgical precision in eye surgery.
Benefits of Cataract
Removal with the

Centurion Vision System

Ultrasonic phacoemulsification is the gold standard in cataract surgery. It uses a small ultrasonic probe, inserted into a tiny incision at the edge of the eye, to gently break up a natural lens that is cloudy because of cataracts into tiny pieces and suction them out of the eye.
Advanced Technology
for Cataract Removal at Lotus Vision
The Centurion Vision System offers advanced technology that uses ultrasound in combination with mechanical oscillation to break up the cataract faster and to allow for greater surgical precision and control. It provides an advanced system for inserting the folded replacement lens through a tiny incision, unfolding it, and locking it into position.
Using the Centurion Vision System to perform cataract removal surgery, Dr. Nemi at Lotus Vision has increased flexibility and greater control. With multiple removal options provided, he selects the cataract removal method that will most benefit you. We serve Alpharetta and the greater Atlanta, Georgia area, providing state-of-the-art treatments in a clean, elegant, boutique eye clinic where you can expect caring, professional treatment.